Low stock
Regular price
$150.00 USD
Regular price
Sale price
$150.00 USD
Unit price
per
Sale
Sold out
Restocks every Saturday at 3PM ET

New features for Faust:

Passthru USB port for PS4/5 authentication*
3.5mm TRS jack for external L3/R3 inputs (foot pedals, switches, just about anything you can adapt to 3.5mm)
Tournament lockout switch (disables all option buttons on top left when enabled)
Per-button RGB LED lighting
The SGF Faust stickless controller is an all new design from SGF Devices running on the open source GP2040-CE firmware. The user manual is in the Support section and includes basic documentation on the firmware, options, and servicing/parts.

The controller is compatible with XInput (PC/Steam Deck), DirectInput (PS3), PS4/5*, and Nintendo Switch input protocols and can be customized to your own liking if you wish, but it works just great out of the box for all of your favorite fighting games and includes multiple options for SOCD (U+D=neutral by default). It is compatible with popular Brook converters for other consoles.
*Special notes on PS4/5 compatibility: requires the use of an authentication device that is not included in the passthru port (such as Mayflash MagicBoots or Brook Wingman FGC, or a licensed PS4 arcade stick). Without correct passthru device, the controller will time out after 8 minutes. See the GP2040-CE documentation for more info.
SGF Faust also introduces SGF's new accessibility port! This is a 3.5mm TRS jack located near the USB-C port that can be used to plug in external inputs for the L3/R3 buttons, such as foot pedals or many other digital switch inputs. The kick pedal DI has arrived! GO APE ON YOUR OPPONENTS; USE YOUR HANDS AND FEET!
A tournament mode lockout switch is present on the top of the device that disables START, SELECT, HOME, TOUCHPAD, L3, and R3 buttons built into the controller when enabled. This allows you to use external L3 and R3 buttons while remaining tournament legal, and can help prevent those embarrassing DQs from accidentally pausing mid-match.
Finally, SGF Faust includes two RGB LEDs per button, that are addressable on each individual button. They're incredibly bright, and come with a handful of premade patterns, but you can also customize your own patterns and behavior, dim and brighten them, or just disable them entirely if you're not into RGB.

The premade controller includes a professionally manufactured PCB assembled with authentic Kailh Choc (v2) switches that are socketed for easy solder-free swapping/replacement/cleaning, a high quality 3D printed case with a snap fit enclosure for ease of disassembly/cleaning, rubber feet (included, but not attached) to prevent slippage during the sweatiest of sessions, and a USB-C port for connection to any of your fighting platforms.

All units are tested by hand just before shipping to ensure you get a great first time experience, but if you have any issues we'll make it right with a 30 day warranty and hassle free returns.

Please note: because the plastic parts of the controller are 3D printed, there may be very minor inconsistencies to each individual unit. We *do not* sell or ship B-stock, blemished, or "cosmetically deficient" units, so any device you buy here will be the highest quality 3D print available.

Dimensions: 218mm wide, 130mm deep, 15mm thick (12mm not including button travel)
Weight: approx 240-250g (individual units may vary slightly) not including cables/addons.

Made in the USA with globally sourced parts.
Share
View full details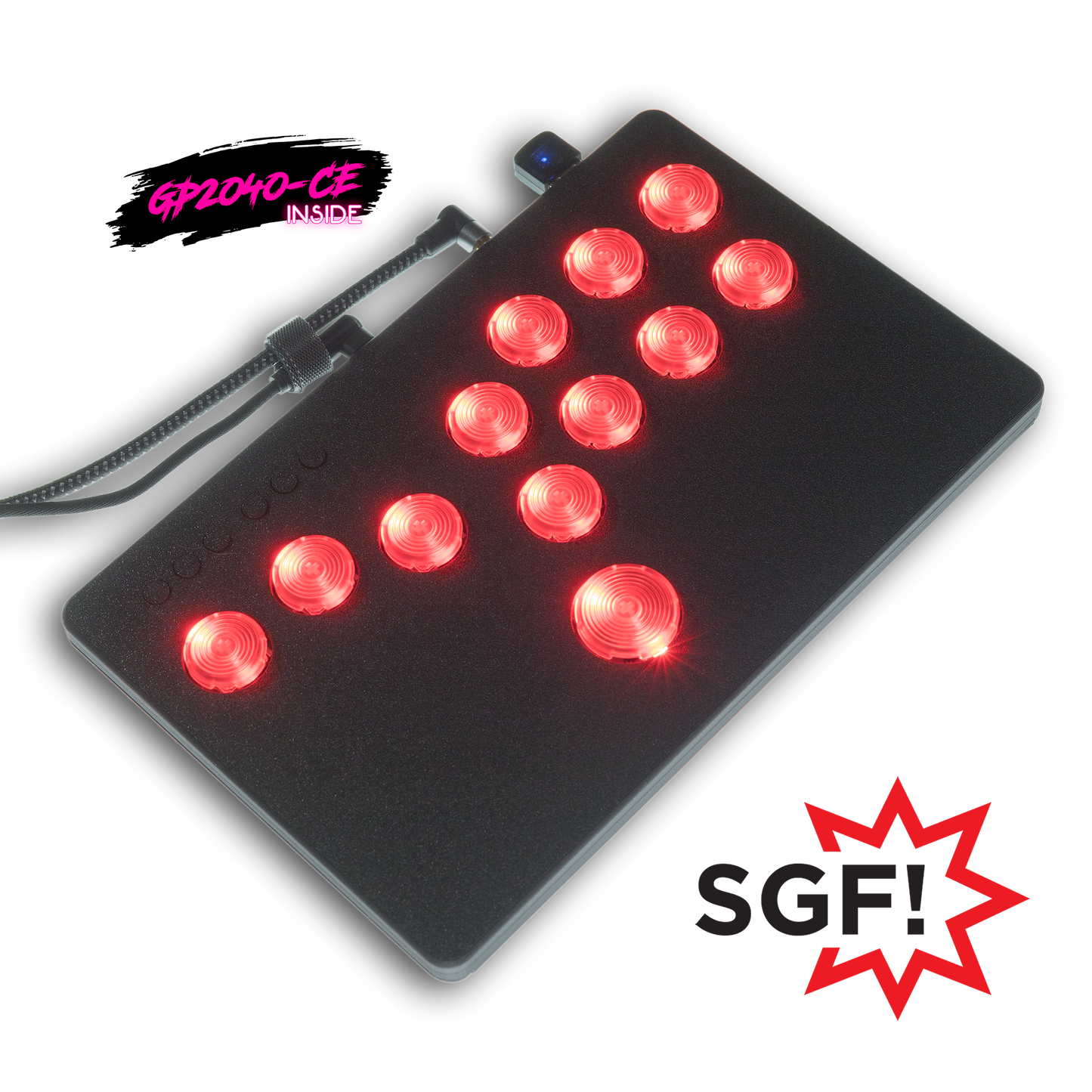 Love It!
I recently bought SGF Faust and for the price it's an amazing entry level Leverless Controller. I was able to customize my colors which was a very welcome service. The controller itself isnt the most sturdy, but It is very portable, works flawlessly and the case is an excellent addition. The only negative experience I had was getting the add on for PlayStation.
At checkout, I was given the option to add the Mayflash converter for PS4/5 however after receiving the product it did not work on my PS5. I still use the controller on my PC so there's no real issue, but I will have to buy an additional adapter for my PS5 eventually.
Other than that shipping was quick and packaging was great.
SGF Faust review
Built quality is great. My brother has his own flat box style controller and you can see the 3D print lines. Those lines aren't visible in the Faust. Amazing design being able to open up the case without the use of tools. Everything works perfectly. The injection molded key caps feel amazing. I only wish they made and sold key caps that didn't attach with a cross so that I can try out other switches.
Best leverless, amazing customer support
My husband and I both have SGF leverless controllers, he has a Zappa and I have the Faust! I've had no issues with my Faust, beautifully made with super quick shipping, the lights shine through both my pink and purple buttons wonderfully, foot pedals are great (and hilarious). My husband's Zappa had a cable issue which SGF helped us through all our troubleshooting on their Discord and sending us out a new cable (as soon as we figured out the issue!). Really cool people, amazing controllers, and best customer support you'll ever see. We love SGF
Shipped fast, looks great, works as expected.
Great price for a great piece of hardware. The inclusion of RGB makes the controller all the more appealing.