In stock
Regular price
Sale price
$30.00 USD
Unit price
per
Sale
Sold out
Note: Only fighting games supported on PS5. Without the use of Magicboots/Wingman (or similar authentication device), the PCB will time out after 8 minutes of use on PS4 or PS5.

Regular PS5 controllers will not work for passthrough authentication.
The SGF Eddie is based on the RP2040 Advanced Breakout Board PE , an open source design from TheTrain and n-i-x.
This board is compatible with popular footprints and wiring harnesses, so you can build your own stick with all of your favorite GP2040-CE features, including 1ms input response times!!!
Firmware comes pre-loaded on the board for testing, but new firmware can always be installed from the GP2040-CE website.
Important note: SGF is unable to provide direct instructions for building your own stick using this board, but we're happy to provide any support/documentation necessary for the board itself.

EXCHANGES ON THIS PRODUCT ARE ONLY GIVEN FOR DEFECTIVE ITEMS AND/OR SHIPPING DAMAGE. NO REFUNDS OR RETURNS.

Based on RP2040 Advanced Breakout Board from the GP2040-CE project.
Original design Copyright 2023 TheTrain and n-i-x
Share
View full details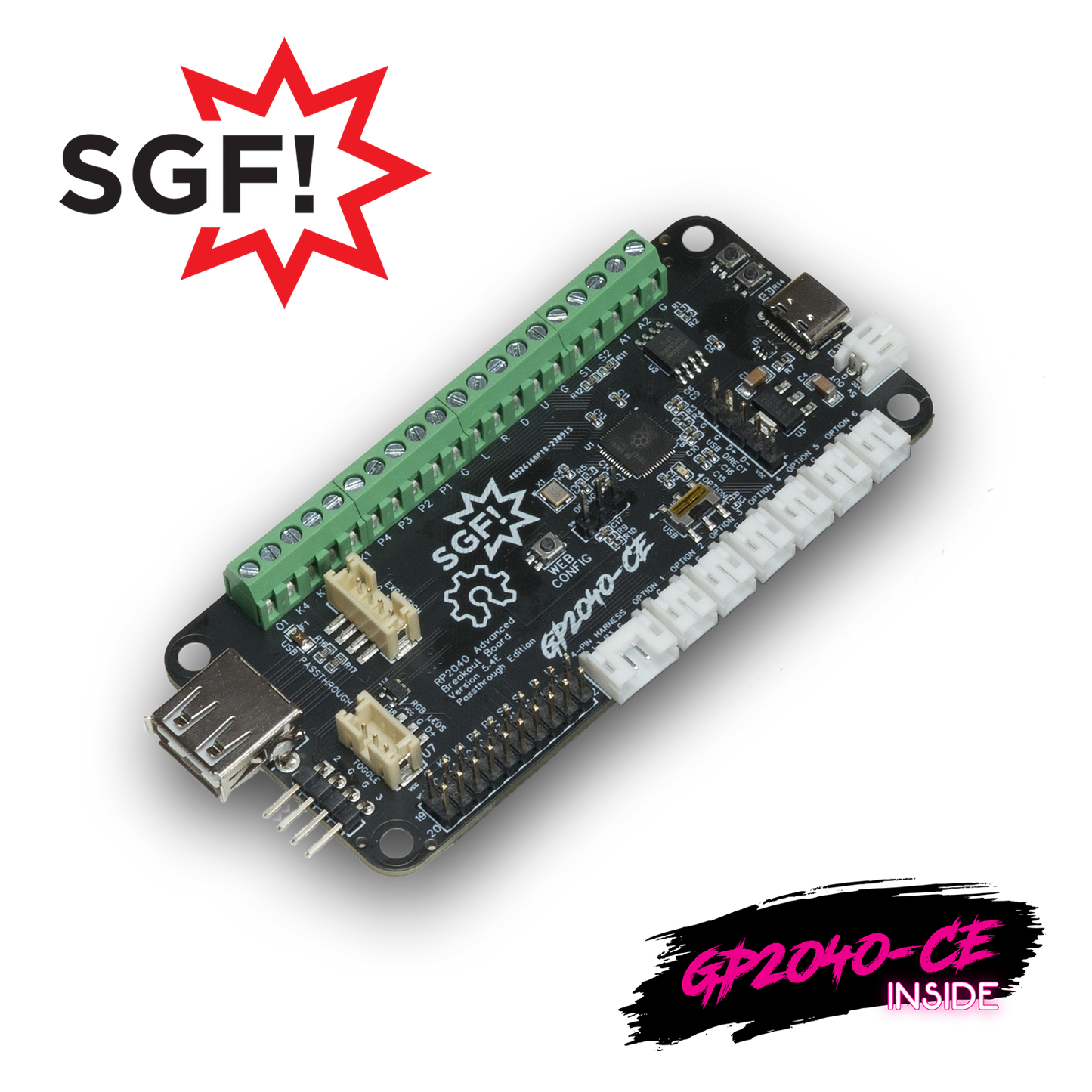 Works on PC at home and PS5 at locals. GP2040CE is the best!
I use this primarily on PC at home inside my leverless. You can set it to PS4/PS5 if you use a Brook wingman or Magic Boots in the passthrough port. Pinout is the same as a Brook UFB so their wiring harnesses work great. This board is worth it with low latency, low cost, and it's upgradable for PS5 use.
Excellent board. Great replacement for old brooks.
Great little GP2040CE board. The built in USB port makes PS Passthrough much cleaner then using a normal GP2040CE board with a separate USB passthrough board.
Inexpensive yet works perfectly on PS5 and PC
Installation was simple, works flawlessly on PC and PS5 with no timeout issues. Packaged well and came with instructions, QR code to the project website, and an overview of the PCB, shortcuts, and buttons for each console as well as some stickers and a banana laffy taffy, can't ask for more.
Great product, even better customer service!
I ordered two of these updated boards with the USB Passthrough feature added. When my package was delivered, sadly it only contained one of the devices. I mentioned it on the discord and not even 20 minutes later I had a new tracking number for the replacement that was being shipped out.
The product itself is great, easy to configure, does exactly what it needs to do and is constantly being worked on by the open stick community. If you have any interest in building a custom controller and don't want to spend five times as much on another board that doesn't do a whole lot more than this one, the 'Eddie' is a great choice!